EDITOR'S MORNING FOREX REVIEW: RISE AND SHINE! May 28 at 12:10 GMT
ForexSpace.com - Forex traders and brokers at the top of the week have seen European markets kick off on a somewhat firmer footing. With the FTSE having lost 6 percent up to now, and the Dax off nearly 6.5 percent in May, fears of a return to a bear market have abated with indices starting the week in finer form. The FTSE 100, CAC, DAX, IBEX, MIB are all posting a strong start, helped along by earlier gains in Asia. The principal upturn in sentiment however stems from more encouraging noises emanating from Athens, where the political situation seems to be stabilizing on the weekend news that the pro-austerity New Democracy Party is edging ahead of the anti-austerity party Syriza in the polls. The alternatives to an exit aren't in the faintest bit appealing for Greek voters, who appreciate a return to the Drachma will be a very painful experience, causing serious uncertainty well beyond its shores.
Consequently, the euro - along with other risk assets – looks like ending a bearing May in a rather more positive mood. Nonetheless, the truth still prevails that Greece remaining in the shared currency bloc will surely cause more trouble somewhere down the line. The market is obsessed with short-term implications though. Certainly, the risks of the euro zone crisis escalating further still remain very apparent, with Spanish ten year government bond yields edging higher, where they stand at 6.4 percent. As Simon Denham, MD of Capital Spreads opines: "The money the government is throwing at Bankia is making investors nervous that the sovereign will soon need a bailout if their yields carry on ticking higher in this fashion."
It is increasingly evident that Europe's political leaders, for all their commitment to the euro's survival, do not have a good grasp of what is required to make the euro work. The prevailing view when the currency was established was that all that was required was fiscal discipline – no country's fiscal deficit or public debt, relative to GDP, should be too large. But Ireland and Spain had budget surpluses and low debt before the crisis, which quickly turned into large deficits and high debt. So now European leaders say that it is the current-account deficits of the euro zone's member countries that must be kept in check.
In which case, as Nobel prize-winning economist Joe Stiglitz (pictured) says, "it seems curious that, as the crisis continues, the safe haven for global investors is the United States, which has had an enormous current-account deficit for years. So, how will the European Union distinguish between "good" current-account deficits – a government creates a favourable business climate, generating inflows of foreign direct investment – and "bad" current-account deficits? Preventing bad current-account deficits would require far greater intervention in the private sector than the neoliberal and single-market doctrines that were fashionable at the euro's founding would imply."
In Spain, for example, money flowed into the private sector from private banks. Should such irrational exuberance force the government, willy-nilly, to curtail public investment? Does this mean that government must decide which capital flows – say into real-estate investment, for example – are bad, and so must be taxed or otherwise curbed?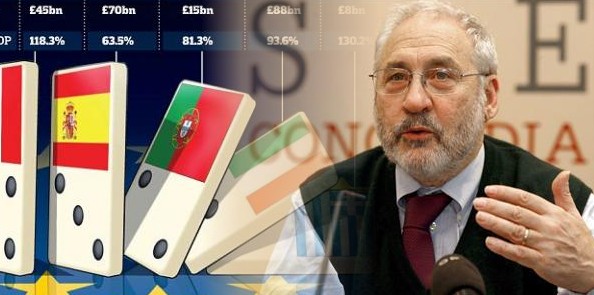 "To me," Stiglitz concludes, "this makes sense, but such policies should be anathema to the EU's free-market advocates."
Without question, the unfolding Spanish story is one to very much in focus, with Bankia being bailed out and Catalonia asking for help, market sentiment remains extremely fragile. Today's trading is expected to be light with US markets closed for Memorial Day, but we can expect more volatility later this week, when the non-farm figures will be published. Also, the Italian bond auction on Wednesday could provide some clues as to the crisis from Greece can be considered contained or is spreading to other European economies.
Drew Hillier. Editor
Best Brokers
Show more Brokers
Overview
USD/JPY
101.8200
-1.3200
-1.28%
EUR/USD
1.2933
0.0080
0.62%
GBP/USD
1.5106
0.0062
0.41%
Gold (USD/oz)
1,391.3600
21.8900
1.60%
Silver (USD/oz)
22.6227
0.3574
1.61%
Names are simplified for your convenience
Show more FX Rates
Majors
USD/CHF
0.9685
-0.0106
-1.08%
EUR/GBP
0.8562
0.0017
0.20%
AUD/USD
0.9742
0.0048
0.50%
USD/CAD
1.0299
-0.0072
-0.69%
EUR/CHF
1.2525
-0.0058
-0.46%
Names are simplified for your convenience
Show more FX Rates
Others
GBP/ZAR
14.3983
-0.0034
-0.02%
INR/USD
0.0179
0.0000
0.17%
TWD/USD
0.0334
0.0001
0.15%
NZD/USD
0.8139
0.0072
0.89%
HKD/USD
0.1288
0.0000
0.00%
Names are simplified for your convenience
Show more FX Rates
Subscribe to our mailing list
Broker of the Month